South East Car Wreckers plan on paying you remarkable cash deals for wrecking any old car that is mainly taking up your garage space. Over hundreds of cars are being discarded on a yearly basis. Most of which are neither used up to their maximum nor disposed in an adequate manner. The South East car wreckers, in our yard, on the other hand, are one of the few in wrecking places in Melbourne to offer cash deals.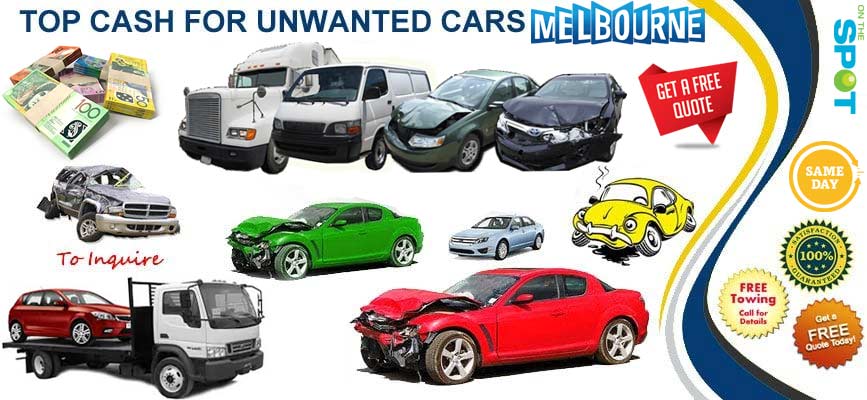 In addition to paying you to dollar cash, we guarantee an instant transfer of money. This is only in the case where you opt for a bank transfer. However, we prefer instant cash payment right on the spot for your satisfaction. One of our representatives is given the responsibility to hand you the full worth of your car in cash. We make the payments without any delay and on the very same day.
What Makes Us Significant Among Other Car Wreckers
If you ever need to judge whether a car wrecker company is reliable enough. You only need to see the kind of benefits they offer with their services. For example, South East Car Wreckers guarantee each one of the following.
No hidden charges or additional fees; in our car wrecker yard, we do not charge for any of our services. Whether it is the evaluation of your car or towing of it. None of our services require you paying. We do all for free and give the exact value of your car in return.
Instant cash right on the spot; unlike rest of the auto wreckers in the city we do not delay the payment. We make it our foremost priority to pay you the full amount the first thing. Even when making bank transfers, before coming to tow your unwanted car. We make sure to send the money in your account and you receive it at the earliest.
Buying all kinds of cars; any good scrap car buyer will agree on buying cars regardless of their condition. We at South East car wreckers buy all vans, trucks, SUVs, minivans, UTEs, 4x4s and all kinds of medium and heavy duty commercial trucks. Not only that, we offer to instantly buy and remove all crashed, burned, flood-damaged and other accident-ridden cars.
Same day car removal; just like we do not intend to delay the payment, we do not delay on the car removal as well. We let you pick a day of your choice for car removal. And even if you want it removed on the same day, we make it happen. Our towing service is free all across Melbourne.
Call our friendly customer support for immediate assistance and excellent cash for car deals.
We Pay Cash For Unwanted Cars – Up To $14,999
Being one of the leading car wreckers and dismantlers, we offer a variety of services. All of which, are accessible in every suburb of Melbourne. You will find yourself with a number of options as soon as you look for cash for car deals. The South East car wreckers and salvage yard are looking for junk, old, scrap and used cars.
Our offers go as high as a $14,999 for the damaged, used, scrap, broken, old and unwanted cars.
We buy all unwanted and unregistered car for wrecking and recycling. It is always smart to make a deal with the one who offers the most number of benefits.
We are Wrecking All Makes and Models
At South East Wreckers, our experts have years of experience in dealing with all kinds of brands. We have dealt in almost all popular car brands in the past.
We buy all German, Russian Korean, Japanese, American and European car and truck makes.
You can sell any model of the brands listed below, new or old, on or off the market, to our wreckers. And we pay you top dollar cash for its full worth right away.
Honda
Toyota
Hyundai
Audi
Mitsubishi
Nissan
Kia
Mazda
Volvo
Mercedes Benz
Volkswagen
Suzuki
Renault
Ford
Subaru
Peugeot
How to Wreck a Car with Us – The Complete Process
We have excellent car wrecking deals and a very easy sign up process. In order to get a quick evaluation and earn instant cash for your car you need to follow these simple steps.
Sign up online and fill all the required details about your car. Or you can also email or call us with the details. We normally require the make, model, mileage and overall condition of your car. Along with this, we also need to know your contact details and full address.
Next, you wait for us to evaluate and respond back with a quote on your car.
Let us know if you approve our offer.
Have us visit your location for a routine physical assessment of the car. This is just to make sure if your description matches with its actual condition. It normally takes very small time.
You finally get the full worth of your car in cash on the spot.
And we finally remove you unwanted and junk car for free.
Where We Can Come To Pickup Your Car
There are many suburbs in metro Melbourne. But it only takes two to three hours to pickup your car. We have different towing and collection locations in Melbourne. So, every suburb is in our access to buy your car for wrecking.
South East Wreckers are providing wrecking services in every corner of Melbourne region.
Eastern suburbs
Inner suburbs
Western suburbs
Northern suburbs
South Eastern suburbs